Redesigning Safety
We focus on Safety, Style and Comfort. 
Our shoes not only look and feel amazing but they comply with the OSHA requirement for safety shoes. ASTM F2413-18 Certified for Impact & Compression Resistant I/75 C/75
Shop Now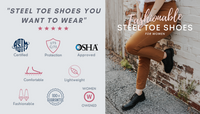 Reviews
Steel Toes shoes have never looked this good

Elizabeth
I work for a construction company and these shoes are what I've always dreamed of! I finally have shoes that look and feel good

Becky
OMG these shoes are amazing, I am so happy I don't need to wear men's shoes any more

Barbara
Thank you for making work shoes for women that aren't pink or purple, I am so in love with the Oxford

Kara
The boot is so cute and fashionable. Perfect for going to the job site

Erika
Ok! These boots are amazing. They look super cute and are comfortable. I am so happy I don't need to wear my old steel toes

Ruby
I have never been so excited for steel toe shoes, but this boots are to die for. Thank you for making fashionable steel toe boot for women

Bri
A Chat with Founder Ivonne
Listen to the EngineeringGals Podcast Episode 51, an interview with Steel Chic Co-Founder Ivonne Howard. You will get to know more about her and how Steel Chic was created. You will laugh, learn great tips and fall in love with Steel Chic's mission and vision.
Listen Now
Meet the Founders
We are childhood friends that share the big dream of empowering women. We created Steel Chic to empower and inspire women through the power of shoes.
LEARN MORE